Welcome to the web site of Mellor Archaeological Trust
> >
STORM Conference Delegates Tour
The Eye of the STORM
1-day cultural heritage and climate change seminar
Mellor, UK
Mill Mill Landscaping (2018)
Photos from Arthur Procter
The Eye of the STORM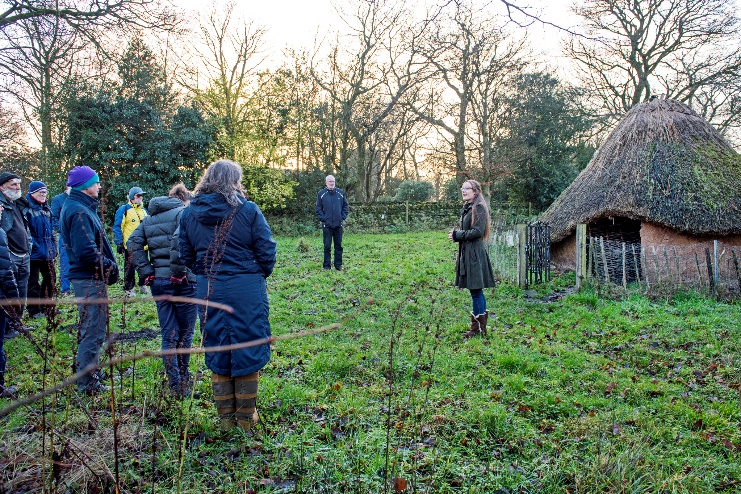 On 11 December 2018 Mellor Archaeological Trust and the University of Salford hosted an admission-free seminar at the Mellor Parish Centre, close to the Mellor pilot site. The seminar focussed on the issue of climate change effects on cultural heritage in the UK and beyond. The seminar was attended by over 40 guests including STORM partners, other local and national CH projects and the general public.
Speakers from STORM, including Rosmarie De Wit, Filipa Neto, Mike Nevell, Bob Humphrey-Taylor and Robert Williamson who discussed the impact of climate change on the North-West England region, the Mellor pilot site, and protection of Cultural heritage across the UK and Europe from hazards. This combination of talks highlighted the importance of the STORM project to the UK cultural heritage perspective. READ MORE
Where is Mellor?
Now on the edge of Stockport in Greater Manchester, Mellor's location is historically important. 
On the south-west and north-west, it is bordered by the two great rivers, Goyt and Etherow, which drain the SW Peak District and join to form the Mersey at the lowest point of Mellor.
On the east, a high ridge overlooks a valley, behind which is Kinder Scout. Three spurs, separated by brooks, project west from the ridge.